What comes to mind when you picture a classic San Francisco restaurant? If it's California's oldest restaurant (yes, it's on our list!) you probably envision a cozy atmosphere and decor that showcases its historic vibe. If a trendy new hotspot immediately pops into your head, you probably see a bright, modern space located right on the water. No matter your vision, seafood is bound to be on the menu as living along the coast means there's no shortage of options!
Take a tour of the Bay Area classics that are serving the best and the freshest seafood in town. Whether you're visiting for the week or you've lived here your entire life, you'll get a taste of local San Francisco and a feel for what this city is all about.
Since 1965, Scoma's has been serving seafood with the same local and fresh philosophy. Everything is caught in the Pacific on small boats and brought to the pier by local fishermen so you can taste the freshest fare right on the water.
Hog Island Oyster Co. hand raises and shucks every oyster, mussel and clam at their Tomales Bay farm in Marshall. Inside the San Francisco Ferry Building, just an hour and a half from the farm, you can sit, relax and taste why their oysters are some of the best in the Bay.
Photo courtesy of Hog Island Oyster Co. and Ed Anderson Photography
La Mar 
|
Embarcadero
Peruvian culture is influenced greatly by history, surrounding South American cultures and the sea. At La Mar, they embrace every element and taste with California flare. Sit on the waterfront patio and enjoy a signature ceviche, plancha marina served with prawns, calamari and the catch of the day or one of their delicious red meat meals.
At Waterbar, Chef Parke Ulrich's menu changes daily to represent the fresh-caught, sustainably sourced fish and shellfish of the day and the most expansive selection of oysters on the West Coast. In the kitchen, they prepare each meal simply to enhance the natural taste of each meat so you can fully appreciate the freshness and taste.
Photo courtesy of Waterbar
Tadich Grill is a classic San Francisco restaurant — and not just because it's the oldest in the city. Over 166 years, they've been serving last night's catch, broiled, sautéed or grilled to tourists, locals, businessmen and celebrities alike. Stop by to see a bit of history and taste local, SF fare.
What is now Sam's Grill began back in 1867 when an Irishman, Michael Molan Moraghan, began selling fresh oysters at a stall in the open-air market at the base of California Street. Today, they've become a central part of SF's seafood scene. You can try their food at the original FiDi restaurant and Sam's Seafood Alley on Belden Place. Or, make a dinner reservation on the first Tuesday of the month to help out a local charity at Dine for a Cause!
Everything at Pacific Catch is inspired by the Pacific — from the locally caught seafood to the modern West Coast preparation. From sushi, to fish tacos and even Hawaiian Poke, you can sample something from every seafood tradition. Try either of their SF locations or head down to San Mateo!
Photo courtesy of Pacific Catch
Since 1974, Pacific Cafe has been serving fresh, local seafood with simple cooking techniques to enhance natural flavor. There will be a wait, but you can sip complimentary wine until your table is ready!
Anchor Oyster Bar has been owned and operated by the same owner since 1977. In the heart of the Castro you can check out the Bay Area's best clam chowder and some of the best oysters — all in the same place!
Bar Crudo is a raw bar serving pristine oysters and raw fish presented in creative and unique preparations. While supporting local producers and sustainable practices, they're offering some the simplest and best seafood in the Bay. Get a roll of sushi and find out which craft beer to pair it with!
Photo courtesy of Bar Crudo and Desiree Pfieffer
Sotto Mare is fresh California seafood with Italian flare. You can get oysters and clams on the half shell, Boston-style Clam Chowder, Baccala, Crab Cioppino, Louis salads, Seafood Pastas and Seafood Risotto — just to name a few.
Lobsters, clams, oysters, crab, trout, salmon, octopus — Swan Oyster Depot serves it all out of their adorable, historic storefront in Nob Hill. Though it is only counter dining, the wait is worth it for this traditional, fresh SF seafood.
With a little bit of everything, Farallon has a menu that features fresh seafood and simple raw preparations, rounded out with local produce, meat and game. When you're not talking about how amazing the food is, you'll be in awe at the creative sea decor — including murals, historic architecture and jellyfish lamps!
Photo courtesy of Farallon and Kelly Pulio
Fish.
|
Sausalito
Across the water in Sausalito, you'll find one of the Bay Area's seafood standouts. Though you won't always find Salmon on the menu due to their strong sustainability mission, you'll find decadent fish preparations and a jaw-dropping specials board. Keep an eye out for their Oak Grilled Whole Local Dungeness Crab tossed with Spicy Cuban Mojo Glaze and served over Garlic Shoestring Fries!
Inspired by Chef Yu Min Lin's Japanese sensibility, the menu at The Sea is rich, modern and focused on the core concepts of mother nature. This means they always source locally and create stunning plates with fresh, wild and sustainably harvested ingredients. Make a reservation for your next date night so you don't overlook one of the Bay's best fine dining experiences.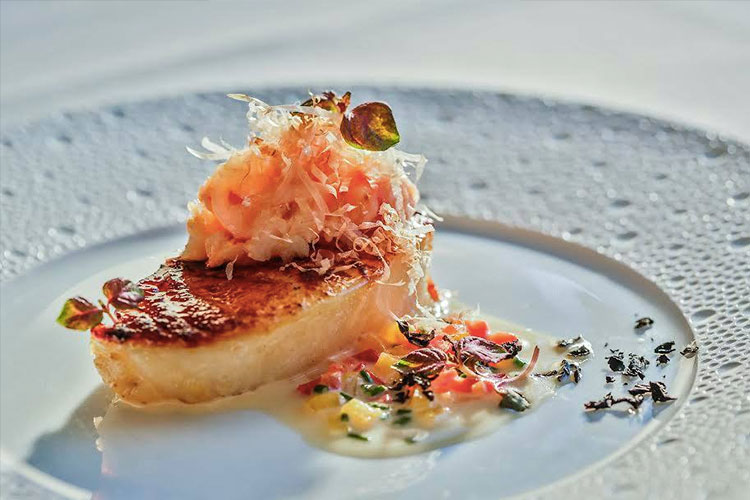 Photo courtesy of The Sea by Alexander's Steakhouse
Share your favorites
If we missed your favorite Bay Area seafood spot, let us know! We can always use more excuses to sample the Pacific's best fish and sea fare.