Home design in 2017 is all about bringing life, light and fun inside the house; it's about bringing the excitement of nature to our everyday experiences. Pantone chose Greenery as its color of the year to refresh our spaces and designers everywhere are embracing trends that allow us all to take a breath of fresh air.
More than anywhere else in the country, that's happening right here in the Bay. Inspired by global design, San Francisco flare and the characters of each individual home and person, these local designers shared the trends they're embracing right now.
If spring has inspired you to redo your home or even just to buy a new throw pillow, check out the Bay Area's best designers and their favorite trends. Then, create a space that speaks to the heart of design and your individual character!
White Walls + Bold Color
White walls have been a design standby for years — and the trend is here to stay! Because 2017 is all about brightening your space, use white walls to increase light and add pops of color for a livelier atmosphere.
Photo courtesy of Ann Lowengart Interiors + David Duncan Livingston
Annie at Ann Lowengart Interiors said, "While in the past, white walls have been viewed as stark and modern, when mixed with the right accent colors, artwork and accessories, white walls can really pop as a fresh alternative to color."
Photo courtesy of Ann Lowengart Interiors + David Duncan Livingston
And adding color to the brightened space allows your own character to shine through. "Color is a wonderful way to infuse warmth and spirit into smaller spaces that may otherwise go overlooked," Annie said.
Her go-to for white walls is Benjamin Moore's Simply White. And she suggests wallpaper as a more permanent way to add color. "[But] if you're not committed to color, try introducing it with accessories, found objects and floral arrangements."
Interior Design by Tineke Triggs, Artistic Designs for Living + photos courtesy of Drew Kelly
Tineke Triggs at Artistic Designs for Living also loves the bright and fresh atmosphere created by neutral walls and color contrasts. She says, "Using a neutral palette with deliberate pops of color adds visual interest to a room and keeps neutral schemes from falling flat."
Photo courtesy of Visual Jill
Jill, designer at Visual Jill, loves the energized contrast of bright and soft colored pillows and accessories — especially the yellows and blues shown in the Oakland living room above.
These small household items are easy ways to bring the trend into your space without committing. You can change the colors with the seasons and your mood!
Navy + Neutrals
Photo courtesy of Niche Interiors + Thomas Kuoh Photography
Jennifer, the principal designer at Niche Interiors, said, "Navy is the bold new neutral for 2017!" As an alternative to the grays and blacks of years past, navy enlivens a space. "It provides depth and interest and can coordinate with almost anything," she explained.
Whether it's navy paint, a bold armchair or sofa, or just a throw pillow for the bedroom, bring the color into your home this year!
Photos courtesy of Jacqueline Palmer, Julia Sperling + Chastity Cortijo
Jacqueline Palmer at A Design Lifestyle agrees, but she takes her inspiration from the runway! She said, "From Dior to Burberry, navy blue — in all its hues — was a huge hit on the Spring 2017 NYFW runways, and it just so happens to be one of my favorite colors to design with. "
The timeless color can last long past spring and even through the years to come. "This trend is great because it only requires one new piece in a neutral or monochromatic space. Your touch of navy can be big or small, anything from a large area rug or drapes to a small throw or decorative accessory," Jacqueline explained.
Bonus: Jennifer suggests adding modern brass hardware as a perfect complement. "Schoolhouse Electric is one of our go-to sources," she said.
Geometric Patterns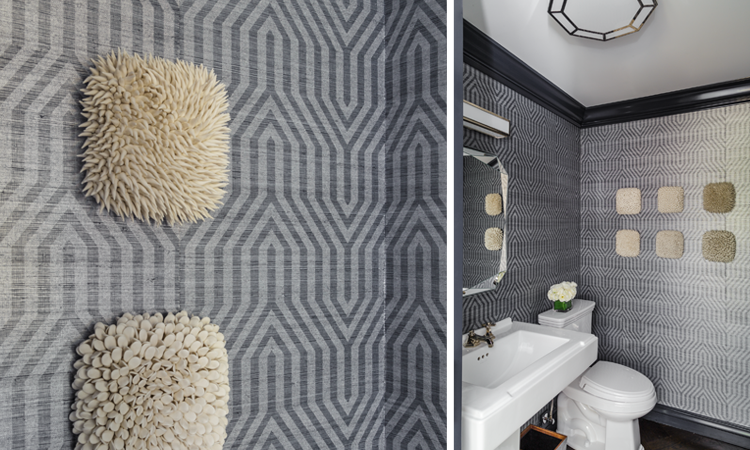 Photos courtesy of Ann Lowengart Interiors + David Duncan Livingston
To add even more excitement, character and interest, Annie at Ann Lowengart Interiors suggests geometric patterns — in any style, color or form! "Whether a patterned wallpaper or a hand-woven rug, geometrics will be big this spring," she said. The trend immediately adds polish and a modern touch to any space.
Photo courtesy of Ann Lowengart Interiors + David Duncan Livingston
Annie suggests geometric rugs for high-trafficked areas, especially. You'll get the double benefit of a statement piece and a simple way to conceal wear and tear!
Bonus: Try upholstering the backs of your dining chairs in a geometric pattern for an unexpected pop of pattern!
Lucite Furniture
Interior Design by Tineke Triggs, Artistic Designs for Living + photos courtesy of Drew Kelly
Tineke Triggs at Artistic Designs for Living loves lucite furnishings for 2017. She said, "They're an interesting way to lighten a space and we love using them to add a modern feel to more traditional decor."
Because they don't take up visual space, they add brightness and airiness to any room!
Texture
Photos courtesy of Suzanne Childress
Suzanne Childress' favorite 2017 trend is texture. Whether it's geometrics, woods, textiles or ceramics she's focusing on "the mix of pattern and texture being seen on the runways and in living rooms."
In classic 2017 fashion, the most important thing is adding excitement to your space. Suzanne suggests trying a more adventurous mix of patterns than you would have in past years.
She said, "One of the quickest and most affordable ways to freshen your home is with paint and wallpaper. Changing the color and texture of a room can have a huge impact on the vibe." To achieve this in her photos above, she used rugs and wallpaper in contrasting patterns.
Natural Wood Finishes
Photo courtesy of Visual Jill
Another way to embrace texture in 2017, is by adding or enhancing your current natural wood finishes, according to Jill at Visual Jill.
She said, "There is currently a trend in home design towards lighter natural finishes in wood: floors, doors, windows, trim and furniture, which feels like a reference to Scandinavian design."
The white walls and light woods in the Oakland home above create a clean and crisp atmosphere. "Oak and birch feel more modern as they are lighter in color," she said, but you don't have to change all your cabinetry to get the look! Simply adding an oak or birch coffee table would do the trick.
Sculptural Forms + Contrast
Designed by Dawn Carlson and Carol Perry + interior designer Vivian Chong + photos courtesy of Helynn Ospina
MAS Design is all about embracing the styles and character inherent in a home and in every person. This year, they're noticing a tendency toward celebrating natural or sculptural forms. "We think the sculptural elements of a home are often the most compelling, and we're enjoying current trends toward keeping some elements simple in order to highlight a more interesting component of the design," said Dawn Carlson, principal designer.  
For example, they don't love all white kitchens just for the color palette but because the simplicity allows architectural details and the more important design elements to be showcased. "We love a raw wood beam juxtaposed against something visually clean; the simplicity works to highlight the natural material," she explained.
This highlighting style is best achieved through contrast. Dawn said, "If we're doing a 30-foot stack stone, organic wall, we'll likely place something uber luxurious and different next to it (Mongolian wool, polished chrome, lucite). This way both the approachable and natural as well as the chic and refined are celebrated. The contrast begs the viewer to enjoy each distinction."   
Black Plumbing Fixtures
Photos courtesy of Gamble + Design
Jeni at Gamble + Design said, "Black plumbing fixtures are hit now." They're an easy way to make a kitchen stand out without doing a full renovation. And they mix well with other metals! So embrace your love for metallics and change out a few of your plumbing fixtures to add drama and depth this year.
In the Gamble + Design home above, they blend a dark kitchen faucet with dark, chevron wood floors, navy cabinets, gold hardware and contrasting bright details.
Florals
Photo courtesy of Lindsay Saccullo Interiors
Lindsay of Lindsay Saccullo Interiors is calling her favorite trend "oldskool florals." Though they pay homage to classic designs of the past, they're given a fresh update through color and style. She particularly loves them set against a modern backdrop because they can add life and fun!
She suggests pairing a floral pattern with a neutral sofa using simple things like pillows, throws or a wallpaper accent wall.
Merge Interior + Exterior
Photos courtesy of Katharine Webster
Katharine Webster is a San Francisco-based landscape designer and she's embracing the merging of interior and exterior this year. While Pantone's Color of the Year, Greenery, is bringing the outside in, she wants to bring indoor elements to outdoor spaces.
She said, "Elements such as lanterns and entertaining accessories in metallic finishes provide a wonderful contrast against natural greenery. When it comes to exterior spaces, a little shimmer goes a long way!"
Katharine suggests adding blonde and gray wood lanterns to provide sculptural elements that work with various design styles and characters. Then, mix it up with shocking, shiny objects, like the copper vessels and resin tray from Tina Frey used in the project above!
Be Unapologetically You
Photos courtesy of Helynn Ospina and MAS Design
The most important design trend of 2017 is to stand out from trend, from the crowd and from tradition. Dawn at MAS Design said, "When design becomes about emanating one particular style, there is a risk of losing the freedom of artistic expression in it."
Because individuals are more eclectic than just one trend, feel free to merge them until you find the exact atmosphere and the perfect home for you.
"The process of curation and personalization versus stamping out an aesthetic is what gets us excited," said Dawn.
And according to Tineke Triggs at Artistic Designs for Living, creating a home is all about building a space that is a reflection of who you are, how you live and what you love. "That is perhaps our favorite design trend of all."
Looking for more inspiration?
If you want daily design inspiration, follow these Bay Area designers on social media.
Ann Lowengart Interiors | Facebook + Instagram
Tineke Triggs at Artistic Designs for Living | Facebook + Instagram
Visual Jill | Facebook + Instagram
Jacqueline Palmer — A Design Lifestyle | Facebook + Twitter + Instagram
Niche Interiors | Facebook + Twitter + Instagram
MAS Design | Facebook + Twitter + Instagram
Gamble + Design | Facebook + Twitter + Instagram
Lindsay Saccullo Interiors | Facebook + Twitter + Instagram
Katharine Webster | Facebook + Instagram
And check out our Home Inspiration section where you'll find DIYs, home decor guides and more!