Trust us, you're going to want to invite everyone.
There's a never-ending list of things to do in the Bay Area — especially in the summertime. Many of those include a few of our favorite things: brunch, food festivals, art festivals, culture festivals. Did we mention festivals?
But when you're not out on the town or hiking atop one of our stunning hills, you can still enjoy the leisurely season from the comfort of your home. And if you live in one of these jaw-dropping houses, you can do it with a full outdoor kitchen, a turquoise pool or a park-like lawn!
To fuel your design inspo and inspire the best backyard barbecues of the year, we rounded up the Bay's most luxurious outdoor entertaining spaces. Duplicate a few decor details or take the easy route and make one of these properties your home!
Garden Paradise + Interior Luxury
Property located at 1050 Filbert Street, listed by Adam Gavzer
Nestled in the hills above North Beach, this luxury home isn't just glamorous on the inside. You'll find plenty of marble, built-ins and bright spaces throughout the interior, but when you step into the backyard, you'll be immersed in a beachy garden paradise. With a pond, a quaint bridge and mature landscaping, it's the perfect place for your next garden party.
A Patio for the Whole Posse
Property located at 14 Albert Lane, listed by Lotte and Sarah
Marin County homes are known for their views and land, but this Mill Valley home takes those stereotypes to the next level. Surrounded by greenery and rolling hills, the elevated patio is the entertaining space of our dreams! Step out from the master suite, the living room or the indoor dining area to access the deck. With a hot tub, a dining table and multiple places for lounging with a cocktail, you'll want to host every dinner party outdoors!
Dinner by the Pool, Anyone?
Property located at 25 Aster Avenue, listed by Kim Gelman
Nothing says backyard barbecue like a stunning, turquoise pool — and the full outdoor kitchen on the patio doesn't hurt either! Needless to say, this home is an entertainer's dream. On two-thirds of an acre, you'll find an entertainment terrace complete with a full kitchen and barbecue grill, a swimming pool with a spa, a pool house with a full bath, a playhouse, and a pavilion for dining under the stars!
Hot Tub Design Machine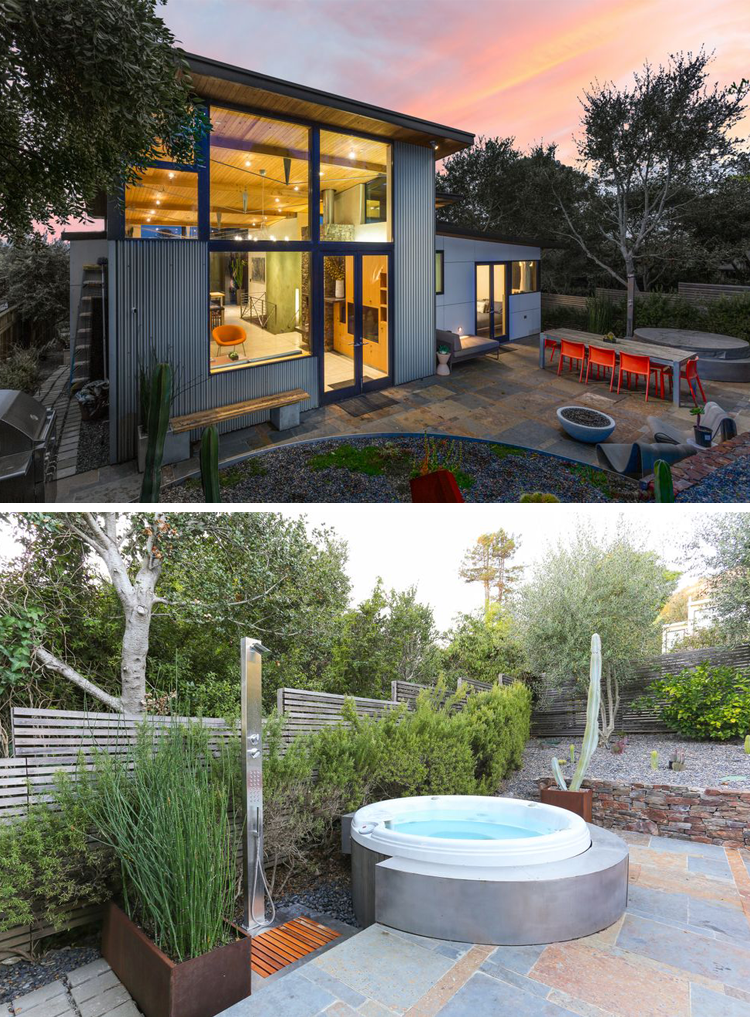 Property located at 370 Calle Del Mar, listed by Glen Williams
We've mentioned this home's patio before — and there's a reason. Mostly, it's because we want to host our own party here! We love the architectural details around the hot tub, the outdoor shower, the elegant dry-scaped yard and, of course, the open space and dining table.
Mini Golden Gate Park in Kentfield
Property located at 8 Laurel Way, listed by Lotte and Sarah
If you're looking for space for the entire family and a place to exercise your green thumb, this Kentfield home was made for you! Stretching around the front and into the back, you'll find a park-like lawn, rose garden, sparkling pool, kitchen garden, charming hedgerows, a potting shed, greenhouse, and even a private well for irrigation.
Lawn Games + Stargazing
Property located at 376 Redwood Road, listed by Glen Williams
This San Anselmo home is made for family barbecues and summer lawn games! Take your bocce balls to the back lawn for some sun or lounge on the shaded deck. As the sun sets, we recommend moving to the upper patio — where you can relax on the couch and stargaze.
Share your favorites
Let us know which homes you fell in love with and which home decor secrets you're stealing!